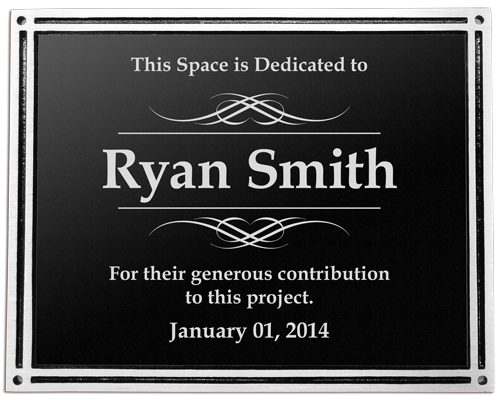 Cast Aluminum Plaques
Our economical plaques are made of aluminum and ready for engraving. Available with integral bracket for rod mount (rod sold separately) or with through-hole mount (including screws), they are manufactured in three different sizes. These plaques are a cheap option to satisfy customers that require an all-metal plaque without the high price.
Your message or design is etched onto black anodized aluminum and fastened to a cast aluminum blank.  This results in a very durable, long lasting but economical plaque.
Sizing & Accessories
Plaque Blank Sizes
Plaque Blanks are available in the following sizes:
Small – 6″ x 4″ with a 5″ x 3″ engravable surface
Medium – 7″ x 5″ with a 6″ x 4″ engravable surface
Large – 10″ x 8″ with a 9″ x 7″ engravable surface
Aluminum Rod Sizes
Aluminum Rods are 3/8″ in diameter and are available in lengths of 24″, 36″ and 48″.
Cast Aluminum Plaque Mounting Options
Aluminum Rod (shown with plaque)